How To Trial Our
Group Fitness Classes
Option One: 7-Day Pass: Unlimited access to classes for seven days; the cost is $20 and gives you a great idea of our style of training and whether or not we would be the right fit for you. Click HERE to get your 7-day pass.
Option Two: 28 Day Fitness Kickstart: Unlimited access to classes for 28 days, 30 minute consult to chat about you and your goals, and complete a movement assessment to help you get ready for your first class, nutrition guidance that teaches you what to eat and when to eat, to help you achieve your goals! Click HERE to get your 28 day Fitness Kickstart program. 
Are You Ready To Start Your Health & Fitness Journey
28-Day Fitness Kickstart
Are you sick of:
❗Each year, always saying that "this will be the year."
❗Feeling like you have to be some sort of super athlete, or fitness model to even set foot in a regular gym?
❗Feeling like just another number at regular gyms and trainers not remembering your name?
You just want to get fit, lean and strong, flatten the belly, tone and shape the arms, butt and thighs, all while still being able to enjoy a few wines on the weekends…
is that too much to ask for?
Hell no! ❌
That's why we've created the 28 Day Fitness Kickstart.
You'll get:
✅ Full custom meal plans designed to flatten to belly and tasty too
✅ Shopping lists and recipes to make everything as simple and quick as possible for you
✅ Training in our small groups designed to build lean muscle and kick the metabolism into overdrive
✅ Your own mentor/coach for complete guidance and accountability throughout the entire process.
✅ In a supportive environment of other ladies just like you and all fitness levels welcome
✅ Throw in some fun and banter for good measure too
✅ & drop a dress size while you are at it!
The cost of our 28-Day Fitness Kickstart is $199.
You can pay in full HERE
You can pay in 4 x weekly payments of $50 HERE
Or, if you are not sure and want to find out more information, you can book a call with Kirby/Tani HERE
CONNECT
To form real connections with like minded women who are compassionate and understanding & uphold a true sense of belonging.
MOTIVATE
Knowing that this doesn't have to come from within, when supported and guided by the women within our community.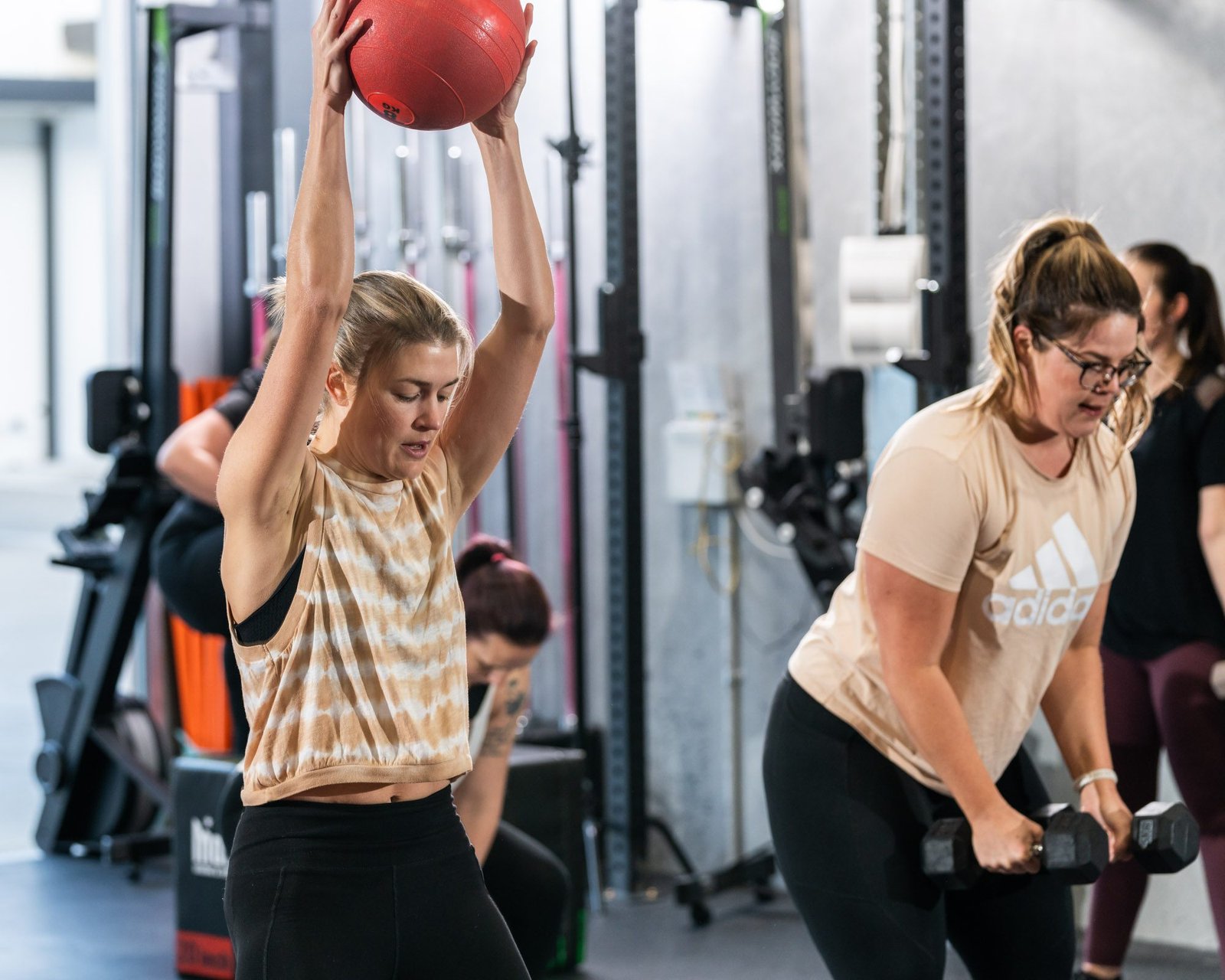 MOVE
To freely feel, be and believe in yourself to move. Without limitations.
Kirby understands how important it is to have a space for your children while you work out. Having 3 children of her own, this space is a must for Kirby and her clients. 
This space is FREE for all children/babies 
Our fully enclosed children's area can be seen from our workout space, giving you peace of mind so you can focus on your workout without worrying about organising care.
group fitness Classes
We believe that our power as women is in the support of our community and the quality of the people we surround ourselves with.
TOGETHER WE RISE.
… and have a heap of fun while doing it!
Please try our classes to see if we are the right fit for you.

Personal Training
For some, joining a group fitness class can feel far too overwhelming if we are already feeling self-conscious, with a lack of ability, fear of failure and embarrassment.
This is why women join our personal training sessions.
Tailored to your individual needs and ability, with the focus 100% on you for your 30-minute or 45-minute session
* We also offer online fitness programs that you can do at home or at the gym
Thrive Beyond 60 
Get fit in a fun, challenging, and progressive program for people 60 and over
Start your journey towards returning to a great routine NOW.
Get confident
Get stronger
Get fitter
Get into the best shape of your life!
Our first two sessions are FREE.
Classes run every Tuesday at 10:30 am for 30 minutes 
Bookings are essential; message Kirby on 0427 255 491 to book your spot.
The cost is $20 per class or 10 x sessions for $180
I'm not a fan of the DIY gym environment but  I love how comfortable Kirby's classes are.
Kirby is such a relaxed and easy-going person and her group training environment is so comfortable because of that.
Highly recommend.
Kirby gets women and understands the complexities of motherhood on the body, mind and soul. The classes are child-friendly and supportive so you can enjoy a great workout. After only a few weeks I was feeling stronger, healthier and happier.
Kirby, where to even start?
I've never really found somewhere I felt comfortable going to to exercise or felt I could stick to it, until I found you!
Thank you for always believing in me and pushing me when I really need it. I am so excited for your new venture and look forward to seeing what amazing things are in store.
Welcome to Day 1 Full Body Strength Workout incorporating a barbell 💗 In this workout, we will also use kettlebells, dumbbells, a slam ball and a barbell. ➡️ If you don't have a barbell you are able to use dumbbells for the push press and also use dumbbells for the...